Pickle Valentine
should be famous near and far for the knowledge and selection showcased in her shop if you are exploring and learning about the world of vintage beads. Today however I am sharing another side of this shop and the seller behind the scenes.
From Libby's shop Profile Page she tells of an earlier time in her life in this way.
At one time in my life, I was a constant knitter. I was taught basic knitting by my grandmother when I was very young and started knitting seriously when I was in my twenties.





I collected knitting books and magazines, both used and new. Many of the magazines are old and yellowed with age. They were obviously well-loved by their owners, even having smudges, writing or coffee stains. Others look newer, but none of them look as if they just came off a store shelf. I only bought books with patterns I considered beautiful amd I didn't particularly care if a book or magazine was in pristine shape. I will describe any faults or flaws in each listing. I also will be selling hardcover books in much better shape.





Amazingly, I still love the patterns thirty or forty years down the road. Many of them look newer and fresher today than they did back then. We had a much more limited choices of yarn back when few people knitted in public and knitting had not become as popular as it is today. The knitting renaissance has gladdened my heart. I can imagine how gorgeous these patterns would look like with the newer yarns.
Let me show you a few of the classics from the time Libby was a knitter and you can start dreaming of projects to come when you get your copies of the wonderful magazines from her
shop
.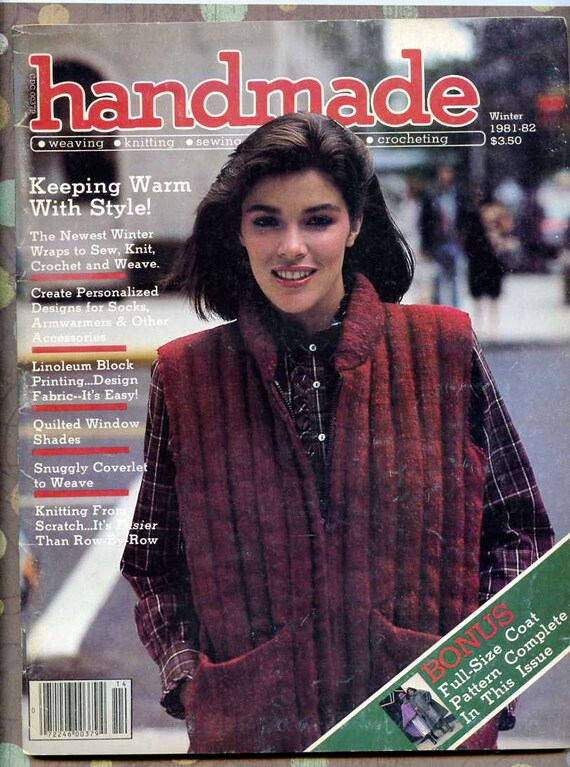 Handmade Magazine, a multipurpose craft publication which was very popular amongst us Earth Mother types back in the 70s and 80s, was a high quality magazine crammed with patterns and designs to inspire you....and with practical full scale patterns and instructions so whatever you attempted would be a success. There are articles and patterns for designing fabric with lino cuts, tiling a floor, making a greatcoat, making a woven shawl, knitting, a quilted jacket, fan patterns, making a roman blind, and using a Folkloric shirt pattern to make a longer dress, a cute pair of lace up ballet slippers, more knitting patterns...and even making a quilted painted headboard.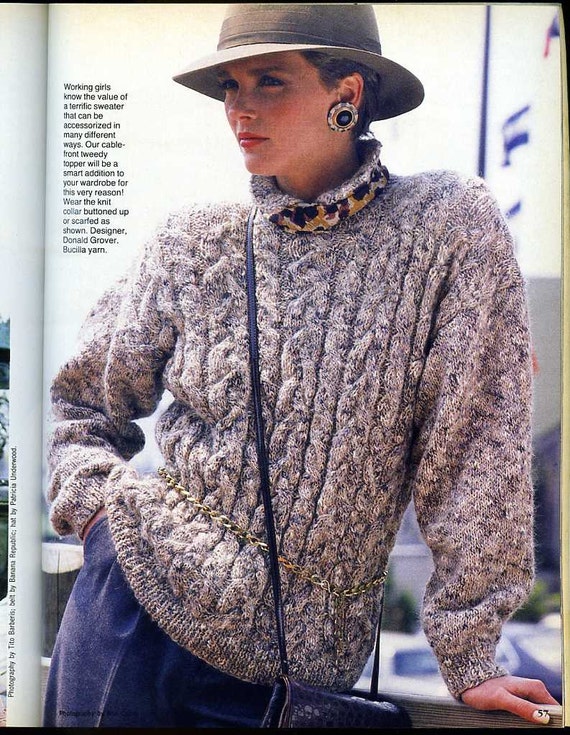 1987 Winter Family Circle Knitting and Crochet magazine packed with both crochet and knitting patterns. 50 sweater patterns, Holiday knitting, granny squares used in innovative holiday vests, outdoor sweaters, Arans, cables, and plenty of inspiration. If you would like to see more pictures, just send me a convo. I also have a picture of the cover, but I would rather show the insides of the magazine.
These books were published by the New York Times! That explains why the knits are so fashionable. My pictures are only a sample of what is in this magazine. If you love the styles of the 1980s, you will love this.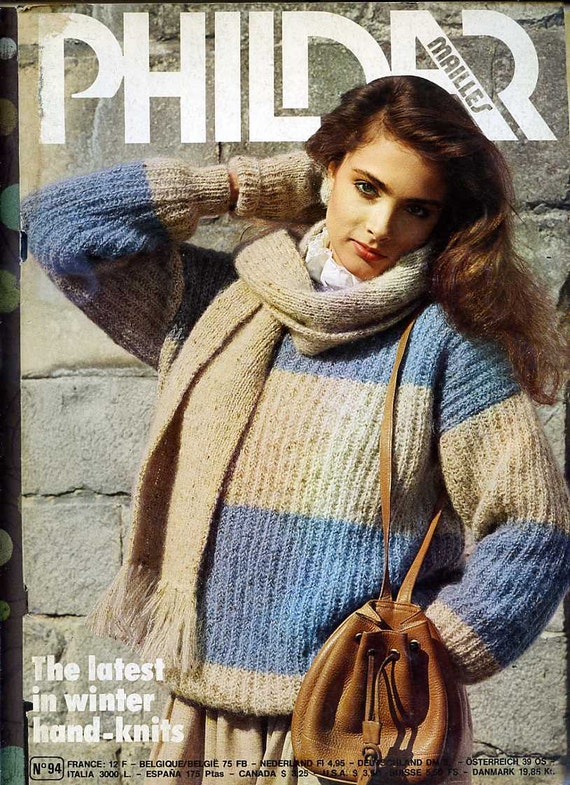 Vintage 1983 Phildar Mailles Pattern book. Thirty-six European designed knits in this book, including a kimono hoodie, Fair Isle designs, Cable designs, mittens, scarf, very popular Mother and child's sweaters shown in second photo which was also published in a separate book. There are also wonderful patterns for guys in this book.
I would love to hear from you after you browse the shop to know what favorite things you found.
Comments and sharing are always appreciated.
Hope to hear from you soon.
I sell -
Zibbet
I blog -
A Cozy Life
and
Group2020
I tumble -
CozyAtoZ
I pin -
cozyatoz
I socialize -
on Google Plus,
and
on Twitter.